For all the grandeur that the Palace of Versailles has to offer there is something much more quaint and rustic that appeals to our beauty seeking souls. It is the Norman styled Hamlet, Hameau de la Reine, designed by architect Richard Mique for Marie Antoinette between 1873 ~ 1787 as a place for her to escape the daily rigors of court life.  
There are a total of eleven houses that surround the Big lake. Five of the buildings were regularly used by the Queen and her guests. They included the Queen' house, billiard room, boudoir, mill and refreshments dairy. The remaining four homes were for the working staff and included the farm and its annexes, the barn, the dovecote and preparation dairy. The farm was located just outside the village and contained eight cows and a bull, ten goats and several pigeons.
Each house came with its own complete garden. Crops such as cabbage, cauliflower and artichokes were grown. Most of the gardens were surrounded by hedges and chestnut trees. Small orchards of apple trees and cherry trees were also planted.
Climbing plants such as roses, grapes and wisteria covered the walls of the houses and on arbors to create shade on certain paths.
The Malborough Tower, named for the Duke of Marborough, was the point of departure for boat rides or fishing outings to catch pike or carp .
The Queen's house is the most important building  located in the hamlet. It is comprised of two separate buildings joined by a wooden gallery, decorated with white and blue earthenware flowerpots with Marie-Antoinette's monogram. The ground floor featured the dining and billiard room. The first floor contained a large living room, a small living room, a Chinese room and a private apartment.
The Queen's small house, known as the boudoir, features a thatched roof, a lean to, charming staircase and the back is surrounded by a closed garden.
The Mill was built at the edge of the lake and its wheel was used to grind the grain and also featured an interior laundry.
Again the staircases and balconies of the building featured rows of earthenware pots containing hyacinths, wallflowers or geraniums.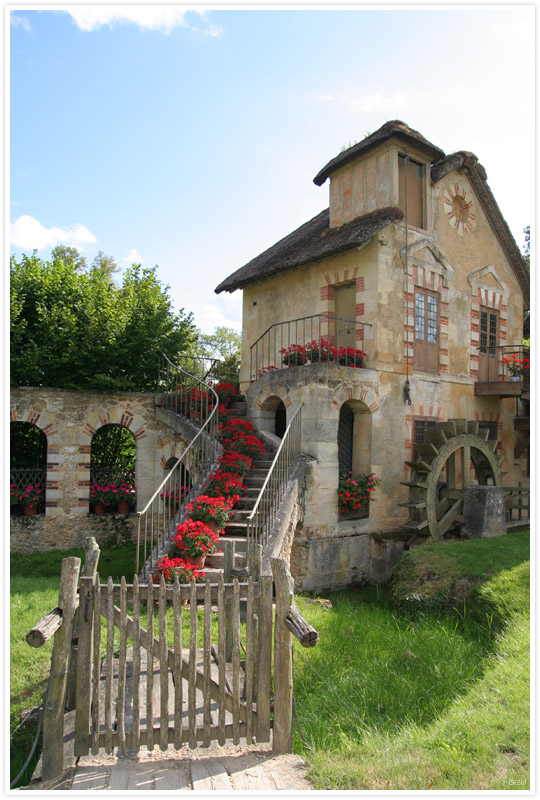 All of the cows, goats and sheep were brought to the farm from Switzerland. Various cheeses and cream were manufactured in the Preparation Dairy, which was destroyed under the First Empire. It was located across from the Refreshments Dairy which thankfully, still stands.
As to the hamlet's historical significance, it was here that guards found the Queen and informed her she would be imprisoned and tried for treason. Sadly, the trial did not end well for her.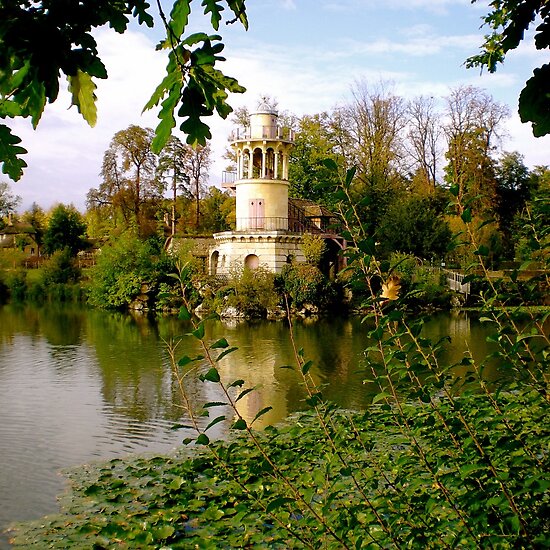 Happily her vision of simple beauty lives on.
Shall we visit the Queen's other playground, Le Petit Trianon, next week?
Andrea and Laura
Linking to: